Secondary Machining Service
Various machining applied to customer's material:

BROACHING:

We produce a hex, square or other drive socket into a screw product, usually into a blind hole. Broaching all the way through produces a hollow lock screw which we manufacture in special sizes.

SLOTTING:
Saw slots on fastener heads for screw driving. Slot shank ends any desired purpose.

GROOVING:
Add one or more grooves to an existing fastener for E-Clips, O-Rings, or other similar purposes.

TRIMMING:
Reshape a fastener to a custom size or shape for any special reason.

THREADING:
Cut threads, Rolled Threads, and C.N.C. Single Point Threads are produced in our shop on a regular basis. All products will gage to your specifications.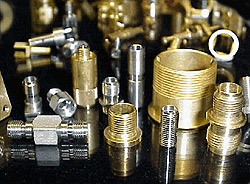 Advanced Secondaries specializing in secondary operations, broaching, drilling, tapping, shaving and grooving.